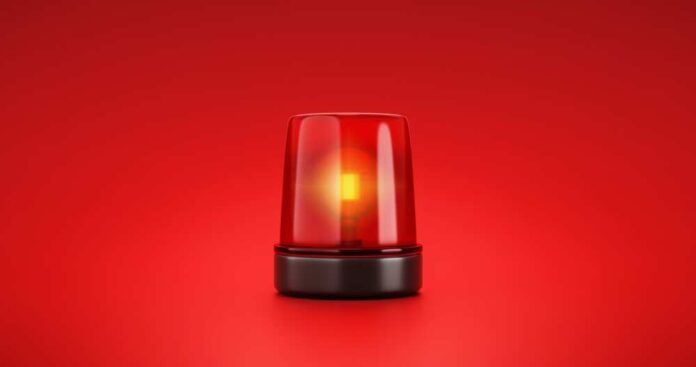 (TheLastPatriotNews.com) – In an incident invoking the nation's harrowing memories of the 9/11 terrorist attacks, an off-duty pilot seemingly tried to hijack midair and crash a West Coast flight, which would have caused the 83 people on board to plummet to their deaths.
On Sunday, an off-duty pilot traveling in the cockpit of an Alaska Airlines flight going from Seattle to San Francisco tried to take control of the plane, CNN reports, as cited by Newsmax.
The pilot on duty reported to air traffic controllers that this individual tried to shut off the aircraft's engines during the journey.
Below, you can listen to the communications.
The man, identified as 44-year-old Joseph Emerson, was later arrested by the Port of Portland Police Department.
He faces multiple charges, including 83 felony counts of attempted murder, 83 counts of reckless endangerment, and one count of endangering an aircraft, according to online booking records.
It wasn't immediately clear which airline Emerson worked for. CNN notes that pilots sometimes occupy a cockpit "jump seat" either for official reasons or when commuting to another airport.
Due to the severe security threat posed by this incident, the plane, which departed from Seattle Paine Field International Airport, had to be redirected to Portland International Airport.
According to The Seattle Times, the plane, an Embracer E-175, had 80 passengers, including lap infants. The crew comprised two pilots and two flight attendants.
An audio recording leaked online contains a pilot's communication with the Seattle air traffic controllers during the incident.
"We've got the guy that tried to shut the engines down out of the cockpit, and he doesn't sound like he's causing any issues in the back right now. I think he's subdued. Other than that, we want law enforcement as soon as we get on the ground and are parked," the pilot can be heard reporting.
The airline further clarified that the flight, managed by Horizon Air, a subsidiary of Alaska Airlines, followed FAA procedures and safely diverted to Portland International Airport. Law enforcement authorities are currently investigating the incident.
"The Alaska Airlines crew 'reported a credible security threat related to an authorized occupant in the flight deck jump seat,'" Alaska Airlines declared in a statement on Monday.
"The Horizon captain and first officer quickly responded; engine power was not lost; and the crew secured the aircraft without incident," commented Alaska Air Group, overseeing both Alaska Airlines and Horizon Air.
More audio from the Alaska Airlines flight where an off duty pilot tried to shut down the engines mid-flight… 👀#AlaskaAirlines #pilot #flying pic.twitter.com/x73c2BLkOi

— Mrgunsngear (@Mrgunsngear) October 23, 2023