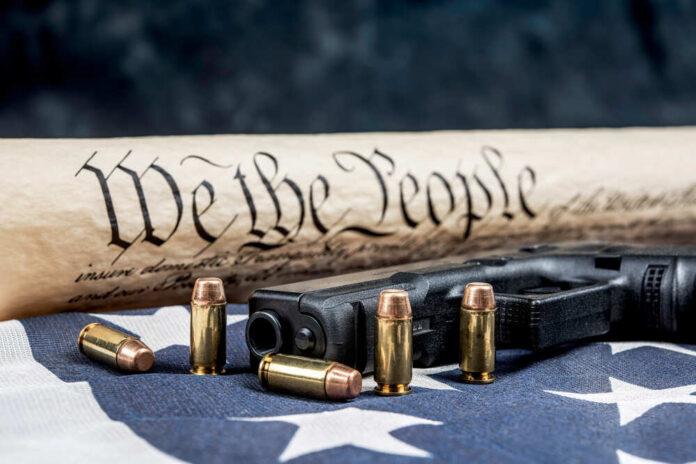 (TheLastPatriotNews.com) – A group defending Second Amendment rights has challenged in court a new anti-gun law in Democrat-run Illinois limiting the advertising of firearm sales.
The National Shooting Sports Foundation (NSSF), a Connecticut-based trade association for the firearms industry, argues that the state law in question is unconstitutional, The Messenger reports, as cited by Newsmax.
The new legislation adopted by Illinois' leftist-dominated legislature bans the marketing of guns that "glorifies private militia and paramilitary actions or targets children."
The "Consumer Fraud and Deceptive Business Practices Act" also offers a way to sue firearm manufacturers and dealers if any of their weapons are used in a crime or even in an accidental shooting and could be connected to the newly outlawed advertising practices.
According to the NSSF, however, the legislation violates First Amendment speech protections, Second Amendment gun rights, and the right to due process.
The gun trade association challenged the legislation in the Southern District of Illinois on Monday, only a couple of days after Illinois' far-left Governor J.B. Pritzker signed it into law.
"The flawed logic of this unconstitutional law is second only to the contempt for which the authors and Gov. Pritzker hold for the constitutionally protected right of the citizens of his state to keep and bear arms," declared NSSF Senior Vice President Lawrence Keane in a statement.
According to the lawsuit, Illinois law also contradicts the federal Protection of Lawful Commerce in Arms Act (PLCAA).
The US Congress passed PLCAA in 2005 during the Second Bush Administration because of lawsuits against gun dealers and producers following injuries or deaths caused by the criminal or accidental use of firearms.
Yet, according to the proponents of the Illinois law, PLCAA wasn't meant to defend the gun industry.
Democrat Illinois state Rep. Jennifer Gong-Gershowitz, who sponsored the new state bill, declared its provisions clarified the federal law.
"This clarification is necessary to ensure that courts correctly interpret that the [law] falls within the predicate exception and is not preempted by PLCAA," she said, adding that "the firearm industry does not get special treatment under Illinois law."
However, NSSF stresses that the new legislation allows people to sue gun makers and dealers over damages caused by third parties, which federal law prohibits.